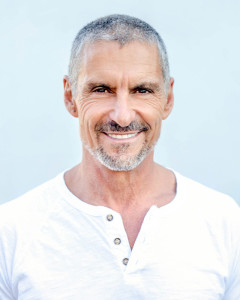 Citizen of the world, life experience is my education.
Undergraduate: BA Cornell University; Master in International Affairs, Columbia University, NYC
Tell us about your career as a writer.
Cliff: This chapter and my memoir is my first as an author, I have a written a film screenplay which I am currently pitching. I am an actor so this writing has been an amazing learning curve for me.
Loren: Writing is my full time career. I founded a ghostwriting company, Write Wisdom, which ghosts memoirs and business books for famous and not so famous clients. I write full time. It is what I love to do and I am well paid for it.
"White Bubble of South Africa," written by Cliff Simon with me captures a day in the life of a young South African boy who is challenged by his father to take the tiller of a racing dinghy on his own in a storm; this is juxtapositioned against the storm of the boy's domestic life and the toll of apartheid upon the family.
Cliff and I were inspired to write this piece as part of a much larger adventure/memoir, "Paris Nights: My Year at the Moulin Rouge," which will be published this Fall.
The main theme of this piece is to learn how to face your fears. That lesson has carried Cliff through his life and allowed him to take on many challenges – living alone in Paris as a principal dancer in the Moulin Rouge, working as an actor in South Africa and now in the United States, and pulling off some very daring and dangerous athletic feats.
Tell us about another project you are currently working on.
Cliff: Currently attached to a SCI FI thriller feature slated to film in Minneapolis next May, produced by an Australian company, http://www.mad-anthm.com called 'Project Eden'
Loren: I am currently completing a novel, "The Sushi Maker's Daughter," based on my Japanese husband's family history. The novel spans fifty years and explores the themes of suicide, adoption, and Japanese-American relations. My short story of the same title was nominated for the 2015 Pushcart Prize. The story can be found on line in Forge Literary journal.
What are your methods as a writer?
Loren: I write every day, either working on my own essays, short stories and novels, or on books for my clients. I have a home office and an office in Westwood, near UCLA. I toggle between the two. A change of venue is often a good way to switch gears from one project to another. I use my away-from-home office for client meetings. I also sometimes go on self-imposed retreats to resorts around Los Angeles and just unplug. For my novel, "The Sushi Maker's Daughter," I have written five drafts over five years, most recently with the assistance of a professional editor. For short stories and essays, I might only write two drafts which are usually workshopped with a group of three other writers. We have been working together for five years. All of us met at a class at UCLA and have stayed together. Having a group of trusted writers giving input is invaluable, and because we have worked together for so long we speak in "shorthand."
What is your favorite book?
Loren: I don't know if it is my favorite book, but it has had a profound impact on me, "Magic Mountain," by Thomas Mann. A big hefty door stopper of a book.
Who would play you in the film of your life?
Cliff: I would play myself in the film of my life
What is the most beautiful thing you've ever seen?
Loren: The most beautiful thing I have ever seen, is not a thing. It is the face of my son when he was born. Looking into his eyes, I thought I had died and gone to heaven.
What makes you cry?
Cliff: Animal cruelty makes me cry.
What is your favorite word?
Loren: My favorite word is the word that stays on the page – the one that I don't have to kill.
What's in that cup on your desk?
Cliff: That cup on my desk is a protein shake.
Vanilla or Chocolate?
Rain or Sunshine?
Beach or Mountains?
Loren: Mountains. I hate the beach – all that sand, ugh
Additional Reading on Cliff:
Additional Reading on Loren: