"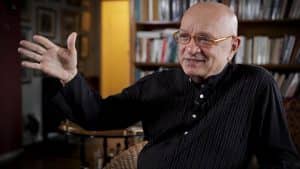 Story Merchant" Ken Atchity, head of Story Merchant Books and Atchity Productions, has more than 40 years of experience in the publishing world, and over 20 years in entertainment.
"At the prompting of a marketing friend, I was advised to title this book, My Intensely Madcap, Lebanese/Cajun, Jesuit-Schizoid, Terminally Narcissistic, Food-Focused, East Coast/West Coast, Georgetown/Yale, Career-Changing, Cross-Dressing, Runaway Catholic Italophile, Paradoxically Dramatic, Linguistically Neurotic, Hollywood Academic, ADD-Overcompensating, Niche-Abhorring, Jocoserious Obit. But when my designer pointed out that title wouldn't fit on the spine, much less on any public display list, I changed my mind. Again! The story of my life. Which this is at least the first volume of. I hope it makes you laugh, spares you some of my grief, and leads you to insist on telling your story to anyone who will listen," shares prolific story merchant Ken Atchity with Late Night Health's Mark Alyn about his MY OBIT: Daddy Holding Me, Volume 1, published by Story Merchant Books, $19.95 softcover.
Prolific story merchant Ken Atchity is a writer, editor, professor, producer, literary manager who's spent his life in the world of stories. He's written over 20 books, produced more than 30 films for television and theater, and made hundreds of Hollywood and traditional publishing deals for his writer clients – including nearly 20 New York Times bestsellers.
His films, include: The Meg (Jason Statham, Warner Bros—over $500 million worldwide!), Angels in the Snow (Kristy Swanson, UP! Channel), Erased (Aaron Eckhart; Informant), Hysteria (Maggie Gyllenhaal, Hugh Dancy; Informant), The Lost Valentine (Betty White, Hallmark Hall of Fame), the Emmy-nominated The Kennedy Detail documentary (Discovery), Gospel Hill (Danny Glover; Fox), The Madam's Family (Ellen Burstyn, CBS), Joe Somebody (Tim Allen; Fox), Life or Something Like It (Angelina Jolie: Fox), Shadow of Obsession (Veronica Hammel, NBC), The Amityville Horror (NBC), and the Shades of Love movies for Cinemax-Warner Brothers International.
Learn more at https:///www.thestorymerchant.com.
Listen to Ken and Mark here: https://www.latenighthealth.com/fathers-their-sons/