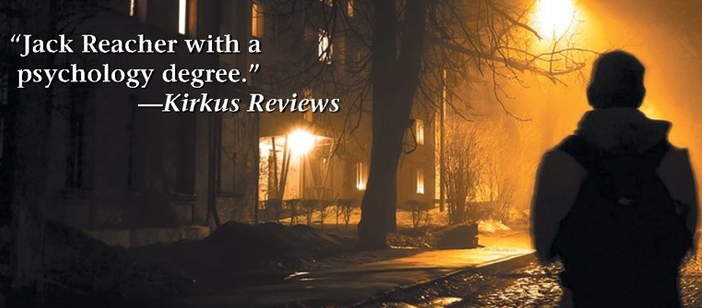 Formerly a Hollywood screenwriter (of My Favorite Year, Welcome Back, Kotter, and more), Dennis Palumbo is a licensed psychotherapist and author. His mystery fiction has appeared in Ellery Queen's Mystery Magazine, The Strand and elsewhere, and is collected in From Crime to Crime (Tallfellow Press). His series of mystery thrillers (Mirror Image, Fever Dream, Night Terrors, Phantom Limb, and the latest — excerpted here — Head Wounds) all feature Daniel Rinaldi, a psychologist and trauma expert who consults with the Pittsburgh Police.
From the publisher: "Psychologist Dr. Daniel Rinaldi consults with the Pittsburgh Police. His specialty is treating victims of violent crime – those who've survived an armed robbery, kidnapping, or sexual assault, but whose traumatic experience still haunts them. Head Wounds picks up where Rinaldi's investigation in Phantom Limb left off, turning the tables on him as he, himself, becomes the target of a vicious killer."
Praise for Dennis Palumbo's Daniel Rinaldi Series:
"Accomplished writer Dennis Palumbo calls his latest novel Head Wounds and the grim title should
serve as a warning. This psychological thriller has some fine language and a strong narrative pull that keeps the pages turning, but the series of crimes that occur are unnerving…People in the story wear Pitt Panthers and Steelers sweatshirts, drive on the parkway, and get their news from KDKA. Mr. Palumbo often does more than just mention Pittsburgh landmarks; he characterizes the city in both positive and negative ways…As Head Wounds rolls to its clever, crazy gothic conclusion, no one could accuse Mr. Palumbo of being flat. This is the fifth book in his Daniel Rinaldi series and most readers will hope Dan lives to see a sixth."
— Pittsburgh Post-Gazette
"Head Wounds delivers relentless action toward a climax as vivid and harrowing as anything I've ever read."
— Joseph Finder, New York Times best-selling author of The Switch
"The character of psychologist and trauma expert Daniel Rinaldi gives great heart to this story and elevates it to novelistic heights."
— John Lescroart, New York Times best-selling author of Damage
"Lovers of noir will enjoy Dan Rinaldi's fast-paced adventures. Rinaldi, an empathic therapist, is on call to the Pittsburgh police. He needs every ounce of his Golden Glove skills to survive the violent world of Pennsylvania politics."
— Sara Paretsky, Mystery Writers of America Grand Master, author, V.I. Warshawski novels
"A gripping thriller, chock full of the desired twists and cliffhangers, with the added layer and intriguing access of a therapist narrator/detective. A page turner!"
— Aimee Bender, New York Times best-selling author of An Invisible Sign of My Own
ONE
Miles Davis saved my life.
I was sitting on the couch in my front room, re-reading the three-inch-thick dossier, listening to Davis' seminal album with his New Quintet. I'd slid the CD into the squat disc player minutes before, right after I'd poured myself a second Jack Daniels. Neat.
It was sometime after nine PM. My broad picture window looking out on Grandview Avenue reflected an opaque darkness chilled by an earlier spring rain. As usual lately, I'd forgotten to draw the heavy drapes when I came home from work. Sometimes I even forgot to eat.
My only task, these past few nights, was to put the dossier on my lap and slowly peruse its many pages. To read yet again the police detectives' statements, peer at the crime scene photos, review the Medical Examiner's report. The hard-backed binder had become an important but cryptic artifact, the potential key to a mystery that I'd long accepted as buried in the past.
"Okay," I said aloud, to an empty room. An empty house. "Tonight I find it. Whatever the hell it is."
The key to a mystery. At least that's what he'd claimed it was, the man who told me about it. Who believed that hidden in the dossier's pages was an overlooked or ignored piece of evidence proving that my wife's death almost a dozen years ago hadn't been what it seemed. That the gunfire that ended Barbara's life was not the lethal result of a mugging gone wrong.
It was murder.
And the proof was in this extensive dossier that same man had once prepared at a wealthy new patient's request. Before she'd consider entering therapy. A dossier on me.
He told me all this over a week ago, as I crouched by his blood-soaked body, staring in disbelief at the man's stricken face. Moments before, he'd saved that patient's life by stepping in front of a killer's gun, taking the bullet meant for her. Although the shooter had been quickly subdued, it was too late for the wounded man.
Gasping in pain from the slug lodged in his gut, he urged me to go to his office and find his copy of the dossier. Though within moments his voice had fallen to a croaked, desperate whisper as he struggled to speak, to find words. Which he somehow managed to do, right before he died in my arms.
I winced now at the memory and swallowed half the whiskey, barely aware of the artful harmonics flowing from the CD player atop the nearby bureau. Denied even the meager solace I usually derived most nights from the soulful, insistent music.
Truth is, I was still pretty scarred, both physically and psychologically, from the events of the past few weeks. The kidnapping of that troubled new patient. The shocking violence and sudden, unexpected deaths that followed. The final showdown with her captors. And, throughout, my own head-strong, perhaps foolish involvement.
God knows, I still had the bruises to prove it.
I sighed heavily. My eyes, tired after a long day seeing patients, squinted down at the blurred, Xeroxed documents arranged chronologically in the ringed binder. Trying to make sense of what I was seeing. Especially the handwritten notes of the investigating detectives. As though, in the soft amber light of the table lamp, the hurriedly-scrawled words had become meaningless cyphers.
Not that the police reports made up the bulk of the binder's contents. This painstakingly-prepared dossier was literally the paper trail of my entire life. From birth certificate to University of Pittsburgh psychology degree, from my clinical experience to favorite bar, hospital affiliations to tax returns. My family and its many sorrows. My marriage to the former Barbara Camden, also a Ph.D, including our brief stint in couples counseling. My friends and colleagues, my private practice, my work as a consultant to the Pittsburgh Police. All my forty-plus years condensed into a stack of documents, copied records, data printed off the Internet. The gains and losses, both professionally and personally, that made up my life.
But it was the material pertaining to Barbara's death that drew my repeated, almost obsessive interest. Including the personal details that were compiled by the police at the start of their investigation. Her own family's history, her noted career as a linguistics professor at Pitt, her marriage to me not long after we'd first met as graduate students. Then came the forensics from the crime scene, the futile canvas of the surrounding area. Leads that went nowhere, anonymous tips that never panned out. And finally their interview with me a month after the mugging, as I lay in the hospital bed, recovering from my own gunshot wound.
Though there hadn't been much I could tell them. Barbara and I had been approached coming out of a restaurant at the Point by an armed thug in a hoodie. He was about my size, I vaguely recalled, though his face was almost totally obscured by the peaked hood and the black of night. A chilled darkness barely broken by the restaurant's soft-hued exterior lamps and a single light canopied over the valet parking kiosk.
It had all happened in what seemed like moments. The guy grabbed for Barbara's purse, she resisted, and I tried to intervene. In the struggle, three shots went off, two finding my wife. I took the third to my head, putting me on the ground. Then the mugger ran off, his echoing footsteps the last thing I remembered before passing out…
He was never found.
Someone inside the restaurant called 911. But by the time the police and an ambulance arrived, Barbara had died at the scene. While I, for some reason, didn't.
Though I still bear the scar from the bullet that had pierced my skull, evidence of my unlikely survival. My inexplicable, unearned luck.
I guess I've been trying to earn it ever since.
* * *
Despite the knot tightening in my stomach, I threw back the rest of the whiskey. It tasted as sour as I felt. Whatever clue I was supposed to discover in this dossier still eluded me, after a half-dozen careful readings on as many nights. Unless the dying man had been wrong, and there was nothing to find.
I was just about to close the binder for the night when an old favorite track, "Just Squeeze Me," came from the CD player's speakers. Miles on trumpet, Coltrane on sax. Heart-stopping, elegant and perfect.
Except the volume wasn't loud enough. So, favoring my still-bruised ribs, I levered myself up from the couch and went over to where the player sat on the bureau.
I never made it.
I'd just bent to turn up the volume–
Suddenly, the front window shattered behind me. A booming explosion of glass, jagged shards cascading into the room.
Frozen with shock, I felt the rush of the bullet as it whistled past me, just over my shoulder. Missing me by inches. Embedding itself in the wall.
I threw myself to the floor. Sprawled there, unmoving. Conscious only of a dull roaring in my skull. The insistent reverberation of the gunshot.
As I waited, heart thudding in my chest, for the sound of another shot. Another implosion of broken glass.
A sound that never came.
Copyright © Dennis Palumbo. This excerpt is published here courtesy of the author and should not be reprinted without permission.
Read more