AUTHORS, BORN TO TALK RADIO SHOW, ENTERTAINMENT
My guest on the Born To Talk Radio Show Podcast, is Ken Atchity.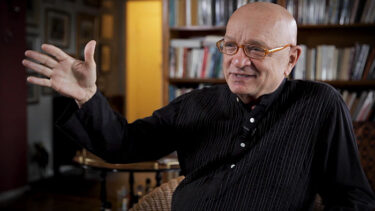 Ken is the CEO of Story Merchant. He is the author of over 20 books. His latest is My Obit: Daddy Holding Me. It was named the Hollywood Book Festival Award Winner for 2021.
Let's Meet Ken.
To start with, Ken spent his first career as a professor focusing his efforts on understanding stories and helping writers get their stories told. "I believe we can change the world through stories. I believe in making a difference in the lives of others through the power of storytelling." Ken has served storytellers since 1996 as a literary manager and producer, developing and selling hundreds of stories for film and television. Ken is a self-defined "Story Merchant." Not only is he an author, but he has also been a professor, producer, career coach, teacher, and literary manager. Ken is responsible for launching dozens of books, films, and brands.
Over his career, Ken has produced over 30 films. Now Ken's Story Merchant companies provide full-service development, management, production, and brand launch for commercial and literary writers. Atchity Productions brings stories of all kinds to the big and little screens, developing film and tv productions.
Story Merchant.
The Story Merchant Companies were formed to serve the needs of storytellers, publishers, and production companies. Each company provides a different service that is supported and supports the other three. If they believe your story has commercial potential but needs work they can use their coaching or editing services. Through The Writers Lifeline or Story Merchant, they can bring it to market standard before pitching to publishers or film companies.
Author.
My Obit: Daddy Holding Me.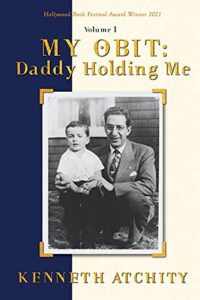 When asked why he wrote his book, his answer was crystal clear, "Because I didn't want anyone else to write my obit." Filled with humorous anecdotes, pictures, and a unique perspective from an immigrant's child growing up in the south. This memoir offers the reader a dive into childhood trauma and learning to rethink those experiences.
I love his explanation of patience. "I learned that patience is the root of accomplishment. It can be a bitter root unless you turn it sweet. What turns patience sweet is finding something else to do while you're waiting."
In Closing.
Accordingly, Ken's life passion has been finding great storytellers and turning them into bestselling authors and screenwriters. You might find inspiration in writing your own story, we all have them. Some are the same and some are entirely different, but that's what makes life interesting.
Trust me when I say this, Ken is a very interesting man with a great story!
********************