Robert.
To begin with, Robert Rivenbark discovered he was a natural writer in the sixth grade. His homeroom and English teacher, Mrs. Lee, elected him as Program Chairman in their class elections. He became the class playwright and short story writer. He read his stories to his classmates and wrote and directed plays inspired by his favorite sci-fi and horror movies and books.
Writing is in his blood. Robert earned a master's degree in Creative Writing from Antioch University. As a result, of that degree, he received a full academic scholarship to study for two years in Oxford and London, based on his winning short story collection.
Robert will tell you he has a relentless work ethic. He takes writing seriously. Consequently, he adopted a "Failure is not an option" attitude.
Speculative Fiction.
What is speculative fiction? According to Robert, speculative fiction draws on science and technology, as in hard and soft science fiction. There can be fantasy elements, too. Therefore, the distinction between speculative, science fiction, and fantasy can merge. Whatever the setting, the stories in this genre are driven by curiosity and the possibilities of what could be. As a result, the stories have endless possibilities. Enter, the speculative fiction novel, The Cloud, written by Robert.
The Cloud.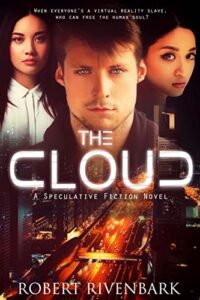 The Cloud is the first novel in The Cloud trilogy. It's also in development as a film or series with producer/literary manager Kenneth Atchity of Atchity Productions and Story Merchant. "When Everyone's a Virtual Reality Slave, Who can Free the Human Soul?"
"The Cloud" is a terrifying vision of a possible future I hope we can avoid. It's a cautionary tale with sexy, suspenseful thriller elements that will keep you turning pages, hoping for the hard-won redemption of the male and female protagonists, who face near-impossible odds."
Robert's Takeaways.
"What I hope listeners take away is that my novel The Cloud expresses their fears, anxieties, challenges, and hopes for healing and transcendence in a deeply flawed world. I've dramatized a possible future I hope we can avoid, based on research into what's already happening. I hope my characters' struggles will wildly entertain and stimulate a thoughtful, cathartic response that provokes discussion, debate, and insight."
In Closing.
Are you curious? What happens in this Virtual Reality thriller?
Robert's personality is contagious and that makes him an excellent storyteller!
He is a citizen of the world.
*