The Project Eden Sage Continues in
PALE HORSE, Project Eden No. 3

And I looked, and behold a pale horse;

and his name that sat on him was Death,

and Hell followed with him.
A simple push of a button and the world will never be the same.
Martina Gable returns home from college to spend Christmas break with her family, but the relaxing vacation she expects is not even close to what she'll get.
Sanjay, a young man in Mumbai who knows more than he should about Project Eden's plan, will do whatever he can to keep Kusum, the girl he loves, alive and safe.
A boy named Brandon Ash runs for his life in the hills of Montana, wanting only to see his family again.
But first there is Daniel, the boy's father, who watches Olivia Silva's finger hover over the enter key that will decide the fate of humanity.
Do you think you're safe?
Where to find PALE HORSE:
If you haven't read SICK or EXIT 9 yet, you should read those first. To that end...
Get SICK, Project Eden No. 1, for Free for Your Kindle or Kindle Ap June 19-21
To celebrate the release of PALE HORSE, I'm making the Kindle version of SICK free for three days at Amazon.com. (Don't have a Kindle? No problem. You can download a free Kindle ap for your computer, tablet, or smart phone here.)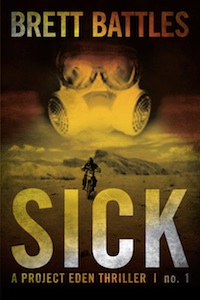 Daniel Ash wakes after midnight to the cry of his daughter. Just a bad dream, he thinks. She's had them before. Yet he can't help but worry when she cries out again as he pads down the hallway. Stepping through her doorway, he expects to find her sitting up in bed, frightened by a nightmare.

But the nightmare is his. It's real. And it's just beginning...
Something is burning Ash's daughter alive. Something horrible that is spreading beyond the walls of their home, and taking no prisoners.

Thirty seconds later, Ash will discover his daughter isn't the only one in his family infected, and as his world spins, coming apart at the seams, a team of armed men in biohazard suits bursts into his house.

But these aren't the good guys.

They haven't come to save Ash's family. They've come to separate them, to finish what they started.
The problem is Ash refuses to disappear. He wants only one thing: to find those responsible.

Because humanity is on the brink of execution.

And man is pulling the trigger.
For Print Fans, THE DESTROYED is Now Available in Trade Paperback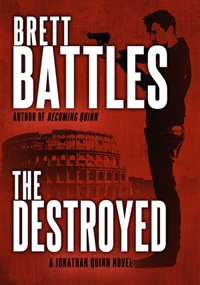 It will also be available through Barnesandnoble.com in the coming weeks.
WHERE TO FIND ME