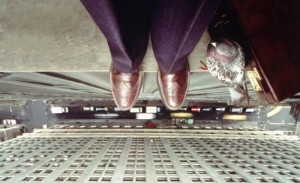 by Jessica Park
....
Amazon is the true powerhouse right now. Say what you want about this company, but it's because of them that I can continue writing. It's unclear to me how a big publisher thinks that I could live on their typical payouts, and why they think I should drop to my knees in gratitude for their deigning to even publish my book in the first place when I'll do all the work myself. I'm not going to be grateful for that nonsense, but I am going to be grateful as hell to Amazon.
Bestselling trad-to-indie-author Barry Eisler, famous for turning down a six figure deal from St. Martins Press to go out on his own, took a lot of heat for having compared an author's relationship with a big publisher to Stockholm syndrome. The truth is that it's not a bad comparison at all. Snarky, funny, and exaggerated, perhaps, but there is more than one grain of truth there, and I just know that authors across the country were nodding so violently that we had collective whiplash. When writing for a publisher, you learn to be overly thankful for every pathetic little grain of positivity that comes your way. A disgustingly awful cover? Smile broadly and say how gorgeous it is. Contracts arrive months after arranged? Whip out your pen and sign with no complaints. You're eating Ramen noodles while they are taking all of December and January off and while they essentially shutdown during the summer to vacation on the Cape? Slurp your soup and be happy.
Because of Amazon and other sites, I'm making enough money that I can continue writing. I'm averaging sales of 3,500 books a month, not including the month that Amazon featured Flat-Out Love in a list of books for $3.99 and under. That month I sold 45,000 Kindle copies, and sold over 10,000 the next month. Those numbers are insane to me. Absolutely insane. The fact that I continue to sell well a year after the book's release is humbling. Yes, I wrote a book that has earned me excellent reviews, so I take credit for that, and I worked myself to death finding bloggers to review my book (God bless my loyal bloggers who took a chance on me!), but I have to credit Amazon with giving me such a strong platform with such overwhelming visibility. I can be a writer. I am a writer.
And it's not just me. Self-published authors, many of whom are writing about college-age characters, are finding viable careers. Abbi Glines, Tammara Webber, Jamie McGuire, Tina Reber, AK Alexander, Angie Stanton, Stephanie Campbell, Colleen Hoover, Liz Reinhardt, and plenty more. I'm seeing more and more traditionally published authors walking away from the headaches and turning to self-publishing. It can be tricky to leave because very often an author needs the advance money in order to survive, and then gets stuck contracted for books that quite likely won't earn out that advance or won't ever provide much in terms of royalty checks.
When authors break the cycle, get the hell out, and flourish on their own, it's a wonderful thing.
Read Entire Article Here